Infuse fun, play
and positive encouragement

Promote laughter and joy

Bring promised
potential for kids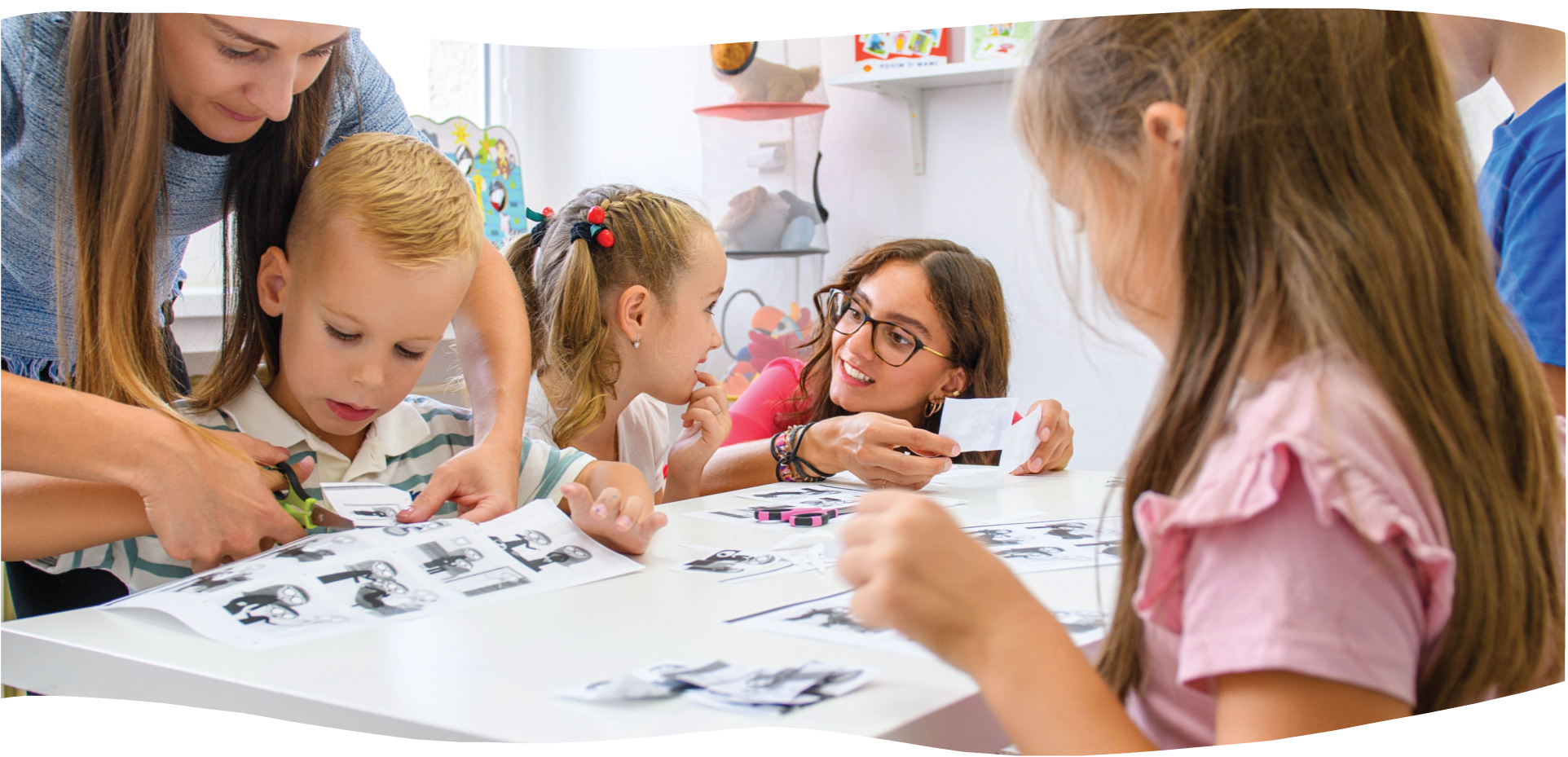 Pediatric Therapists:

Maximizing Children's Potential
Our unique practice encourages development through clean, safe, fun environment and practice.
The Essence of Our Service is to Bring the
Promised Potential

for Kids
We promote laughter and joy, each and every visit, by infusing the facility with fun, play, and positive encouragement.
Our Services
Kids in Motion Pediatric Therapy, through its physical, occupational and speech therapy programs, helps children achieve their full potential and improve gross and fine motor performance, enhance life skills, communicate more effectively, develop social skills, and enhance cognition.
How Our Customer-centric Approach Elevates Your Experience
Customer Benefits
Exceptional Care and Service

Highest quality PT/OT/ST care and customer service

Personalized Provider Relationships

Get to know the service provider personally.

Family-Like Environment for Treatment

Belong to Kids in Motion "family" and treatments become less clinical and more social (peer-peer and parent-parent interactions).

Effective Tools for Better Experience

Best tools for the job resulting in easier, more effective experience.

Fun Experience for Kids

Pleasant, "play" experience for kids, increasing their eagerness to visit frequently.

Encouraging Family Bonding

Parent participation encourages bonding
Discover Our
Incredible Activities!
Immerse yourself in a world full of fun and discover the exciting activities that our brave children do every day.
See more
What Drives Us?
Our
Core Values
Kids in Motion is committed to children's well-being and helping them reach their full potential
Foundational
Principles
Connect
Customers know they will be greeted by name and spend time with familiar faces who know them.
Play
The concept of play is infused throughout the practice. Therapy is disguised as play for our young clients and their parents can participate to make therapy a rewarding social-bonding experience.
Service
Customer service as a mantra - delivering consistent and uncompromising service to customers every time.
Fulfilled promise
PT/OT/ST provide the promise of helping kids shine and reach their full potential. We Love to Hear From Our Parents!
This is a special place in my heart. The therapists here have made a huge difference in my son's life and we will always be grateful. The new space is bright and spacious with great equipment. It is very clean and well-cared for. The therapists are clearly among the best in the area. The staff is organized and friendly. We have nothing but great things to say about Kids In Motion. Another great point is that the owners seem to value work-life balance as many of the therapists are able to work part-time. The benefit is happy therapists = great energy, more fun therapy. Thank you Kids In Motion!
My son loves this place and thinks it is his playground I have seen many therapist because he tends to get OT ST and PT and loves all the therapist one his favorite is Jenny for Ot and she takes her time and really cares about the kids! He has made major improvements over just 1-2 months of being here! He has had amazing strides and even the front desk Sherry and Christina are amazing and he loves to see all the friendly faces here it is like a second home and we love the improvements he has made!
KiM is amazing in so many ways – each therapist we have seen has been great ( to Nadia and Jennifer for OT) as well as all of the other interactions I observe when I'm there, the gym space constantly changes along with craft ideas in order to keep my kiddo engaged and practicing new skills, and I can't say enough amazing things about the front desk staff. After going to so many pediatric offices, the front desk staff here is SO nice, extremely helpful, the reminders, the schedule adjustments, the insurance process – as a busy parent who doesn't have time for added admin responsibilities they make it so easy and I'm so thankful for everything they do. KiM OT has helped my kiddo tremendously and she cries if we have to miss a session because she enjoys it so much. Waiting for OT/PT availability can be really frustrating, but waiting for space at KiM is totally worth it.
Kids in Motion transformed my 3-year-old (started at around 18 months) from a mute –well, almost– to a blabber-mouth. They kept me In the loop with everything and showed me ways to stay consistent with her progression at home! People always comment on how well (and how much) she talks and I owe it all to Kids in Motion! I am a satisfied mamma bear.
Cornelia M. (Redondo Beach)
My child is four years old, autistic and non-speaking. As I have just typed out a really long review I will try to paraphrase in bullet points for the Yelp reader that is short on time, but will elaborate below: – provider passes the "questions to ask your therapist" test to detect harmful ABA strategies as promoted by autistic voices- yay 🙂 – therapists extremely professional, kind and helpful. They challenge, champion, teach and support my kid, don't demand he changes who he is, listen to the parent/carer and work really hard to plan interesting sessions – first-class equipment, amazing gyms out of a kid's dreams – very well organized appointments with regular texted reminders the day before – transparent copayment process at the end of the session – OUTSTANDING hygienic concept to stop covid transmission (washing hands, hand sanitizer before and after session is part of the appointment) We initially came to Kids in Motion to work on the (fine motoric) skills taught in Occupational Therapy. And we won the lottery BIG time. My son sees two therapists, Ms Alissa and Ms Carolyn and they are both fantastic. They are both outstanding practitioners that have an amazing eye for details. Often, they make me aware of small details of progress that my son makes, that I would have probably missed otherwise. Both of them shower my child with unconditional positive regard and champion him through the session. They try and challenge him but also pay close attention when he is getting tired or annoyed. I will try and break down each therapist's unique strengths as I observe them: Ms Alissa: she is very knowledgeable and plans her sessions meticulously. No more just dumping my child in a gym and telling him "now you may climb up that ladder" as I have experienced OT in Germany. She plans short activities to work on his skills but also fun breaks in between. I love how flexible and adaptive she is. The first session, she started the more physical aspect of the meeting in the gym and then invited my son into her office for some more fine motoric work. When it became apparent that he really didn't enjoy going from a cool big room into a small one to do some more focused work, she shifted her session planning to incorporating fine motoric work in more gross motoric tasks in the gym. We had discussed working on holding a pen and she has been trying to find different "pens", angles and situations, how my boy might be encouraged to draw. The latest attempt was drawing with chalk on a trampoline and he really loved it! She is incredibly professional, a great listener (and also interested in listening to autistic voices!), very kind and at the same time very laid back. It's a great atmosphere in her sessions and my child has been working harder than I've ever seen him and truly enjoys them. Another great bonus that links my review to the second therapist, is that both therapists talk and share progress and good practice. Which brings me to Ms Carolyn: She uses each task for teaching moments. For example, taking off shoes. The broke down the whole script of taking shoes off into about five manageable steps (1. Rest your foot on your knee, 2. use three fingers to open the velcro, 3. Pull the shoes off, 4. Repeat with socks, 5. Put socks in shoes and line up). This was such an eye-opener that I had often muddled through tasks like dressing him because I never had a clear concept of how to teach him in simple steps m- and now I do. She breaks down tasks into simple steps and shows and explains them to him- steps he understands and can do and this way she creates opportunities to succeed. I can see how that "clicks" in his mind and how hard he tries to remember them and I can see the proud smile on his face when he does and gets it right. She is also very nice with him, she supports him and challenges him and talks him through the whole session, she talks about what she sees him do (working hard, being funny, getting annoyed etc.) and the whole dynamic is so vivid of the two of them working and achieving together that I at times forget that my sweetie is non-speaking because they are so clearly communicating with each other. She also has high expectations of him while at the same time giving him a lot of unconditional positive regard and it just sets him beaming with pride. That doesn't mean that he doesn't get annoyed or finds things hard but, overall, he really loves coming to his sessions and he, who is really struggling with attention and focus, is working his socks off for his therapists and works so hard to remember what they teach him. Overall, this is one of the best places we have ever been to. It is a gem, staffed with kindest, most professional therapists you could hope for. Way to go, Kids in Motion.
Heather D. (Rancho Palos Verdes)
I brought my son to kids in motion first for feeding therapy and then for occupational therapy ages 3-5.5. As a little guy, he just wasn't interested in food, mealtimes or trying anything new and I was nearly in tears several times a week with frustration. Kids in motion helped us turn things around, eliminate the power struggle and learn helpful language and tactics. At five and a half, my son is still not a terrific eater, but his eating habits are normal and healthy and I know what to do. OT helped my son over a two year period move from not being able to attend to a table top activity, color, cut, dress, etc. to being able to sit down and complete a craft at the same rate as his preschool peers and fully dress himself. We are very grateful to kids in motion and our OT Jackie. Progress doesn't happen over night, but it does happen and it's so nice to have somewhere to go to get help.
Get in Touch
Have a question? Want to schedule an evaluation? Something else? We're always happy to talk with you.